Teddy bear puppies are getting popular than ever. It's most likely because of the multitude of teddy bear puppy pictures found on social media sites. Can you blame them? One look at this puppy, and it's hard not to fall in love. If teddy bear puppies weren't cute enough, teacup teddy bear puppies are now getting more attention. So what are teacup teddy bear puppies? What's the difference between a standard and a teacup? And, how do you care for one? This article is going to explore those questions.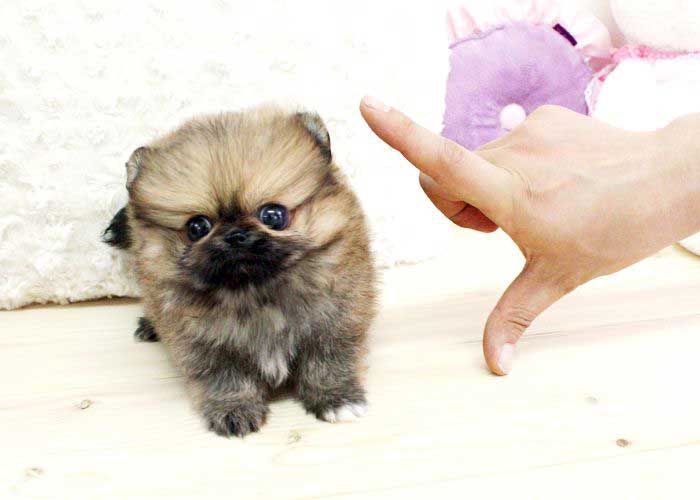 He may be small but he's as cute as a button!
Introducing The Teacup Teddy Bear Puppies
First, let us introduce you to the ever so cute and adorable teddy bear puppies. These kinds of puppies are categorized as toy dogs. Therefore, they are bred for companions than anything else. The distinctive feature with these kinds of puppies is their appearance. They look like cute and real life teddy bears.
Teddy bear puppies are mixed breed. This means, they have different parents to get that adorable appearance. There are a lot of different breed mixes that claim to be teddy bear puppies. However, it is the offspring between a Shih Tzu and Bichon Frise that is commonly referred as teddy bear dogs. Other teddy bear dog breeds are a combination of a Poodle and Bichon Frise and Shih Tzu and Poodle.
You couldn't make one cuter than this!
Teacup – What Is The Difference
The teacup is a prefix that is most often used on a dog that is bred to be very small. The teacup is not a specific breed of dog. Also, the teacup dog is not recognized as a major classification of dog. Most teddy bear puppy breeders would apply "Teacup" to a dog that is bred to be less than 5 pounds and no higher than 17 inches when it comes to length when adult.
Where To Get One And How Much?
Teacup teddy bear pups are getting popular, which is the reason there is no difficulty finding one. You can try to find one online. There is a good chance that there is a breeder or a pet shop that has one near you.
The price of teacup teddy bear puppies can vary widely from one shop or breeder to another. At the very least, you can get one for $500, and may go high as $1,000.
Teacup Teddy Bear Dogs Video
The following video shows absolutely adorable teacup teddies playing in the grass. Enjoy!
How To Take Care Of Your Teacup Teddy Bear Puppy
Since this kind of puppy is smaller than the usual, it needs special care. Specially, make sure that you are aware of its location at all times. It's easy to accidentally hit the puppy when you're moving around.
It is highly advised that you feed them with dry kibble. Wet food and canned foods are dangerous for these kinds of puppies. The fur coat will need a lot of attention; otherwise it would get tangled very fast. You may have to brush your puppy every day. Fortunately, teacup teddy bear dogs hardly shed. It is also a good idea to start early when training teddy bear puppies. This is especially important for teacup teddies.
Teacup teddy bear puppy dogs are bred to be your best friend and a lifetime companion. Not only are they cute, but also they are very playful and loving. Teacup puppies are commonly a mix between a Shih Tzu and Bichon Frise, and bred to be smaller than the standard. Before buying one, make sure to read our teddy bear puppies for sale article. Actually make sure to read everything on this website so you become knowledgeable on all aspects of the teddy bear dog.