Whether you own a small or a large-sized dog, it's important to understand that your pet has some special needs and preferences, and this is also true when it comes to making the perfect DIY dog bed. Your four-legged best friend may love a squishy and soft bed, while a spacious and firm one might actually work better. Likely they will prefer your own bed! But best you train them to leave the roost and snuggle up in their own dog bed. However before I tell you how to make a dog bed you might want to get an overview of teddy bear puppies. These adorable dogs have some special requirements and you need to pay attention to them.
Dogs will likely prefer to sleep in your bed.
Teddy Bear Puppies are an Adorable Choice
In case you've always been looking for a snuggly, small companion who's sweet-tempered and smart, a teddy bear dog will be the perfect choice. These dogs are bred to be loving, hypoallergenic and adorable. In most cases, they are considered to be therapy dogs. But they appeal to most people looking for a dog. Teddy bear dogs are cuddly and soft and it's worth mentioning that teddy bears don't shed much hair. In addition to this they don't produce a lot of dander (a common allergen for humans) nor dandruff. While most dogs' dander and hair vary, depending on ancestry teddy bear breeders tend to focus on producing hypoallergenic dogs. If you find that you generally sneeze when you're around a dog, it's better to consult a breeder to find a teddy bear dog. As the name suggests, these dogs look quite similar to teddy bears. They remain the same size throughout their lives. During adulthood their weight is between 8-16 pounds. With short noses, big eyes and fluffy coats they resemble teddy bears. Besides their cute and adorable appearance these dogs are also considered to be very smart. Teddy bear dogs are very affectionate and easy to train. They get along quite well with kids and other animals. The best part is that teddy bear dogs aren't one-person dogs - these dogs adore your entire family equally. Some of their key characteristics include:
Small in size
Big eyes
Small nose
Friendly
Playful
Hypoallergenic
DIY - Building Your New Teddy Bear Puppy a Comfortable Dog Bed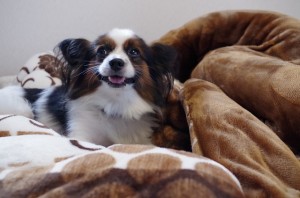 When it comes to making a bed for your dog you need to consider some important factors including the dog's size, breed, activity level, type of hair and how much effort you wish to go to. Considering such factors allows you to make the best bed to suit your dog. You can choose from two options for the type of bed you prefer - a stuffed bed or a no-sew bed.
Stuffed Beds  (30-60 minutes)
In order to make a stuffed bed you should first measure the dog from the tip of its nose to the end of its tail. This measurement determines the length of the bed you need to make. For a sewing seam you should add one inch to the precise measurements. It's ideal to use a piece of chalk to mark the size of the square, circle or rectangle on the fabric's back side.
The marked layer needs to be placed over another layer of fabric. Right sides should be facing inward. You need to pin the fabric together and cut through both layers. The chalk line can be used as a guide. You need to sew around the edges of the fabric layers. Once again, you should use a one inch seam allowance. It's better to leave one-third fabric open for stuffing.
The next step is to use the finished shell for a specific pattern to cut the stuffing. You should use a chalk to trace around the dog's bed onto medium or high loft cotton batting. In case you want to have a fuller dog bed, you should cut multiple layers of batting. If you're looking for a firm bed, it's better to use foam padding. You can even use egg-crate textured foam pads to enjoy more comfort.
In the end, you need to stuff the bed with multiple layers of foam or cotton batting. You should use small foam pieces or bagged fiber filling if you want the bed with loose stuffing. You can fill as much stuffing as you want. Once you're done you need to tuck one inch seams inside the bed. Hand stitch the open seam to close it.
DIY Dog Beds No-Sew (10 to 20 minutes)
It's easy to create a no-sew bed with a pillow case or couch cushion cover. You just need to slip a couple of foam pads or chair cushions in the pillow case. The excess fabric needs to be pinned (or sewn for more safety) to the underside of the new bed. You can easily buy a secondhand couch cushion online and these make for perfect dog bed covers.
Once you're done, for an easy and quick playful-kind of bed you need to stuff a cloth bean-bag shell with high quality Styrofoam beads or basic bags of cotton fiber. Unzip the side and remove the cushion or stuffing. Wash the cover properly and re-stuff the cushion with the soft cotton fiber or foam pad.
So there you have it. Both of these dog beds will accommodate your new teddy bear puppy which he or she will grow to love. Having its own personal space in form of a bed is a great idea as it gives the dog a special place to go where nobody else is allowed. Brilliant!